Are you a crypto holder or perhaps even an accountant with crypto clients? If you need a centralized place to track cryptocurrency holding and transactions, see real-time potential tax burdens, and plan for tax time next year, then you've found yourself in the right place.
The Ledgible Platform offers a variety of solutions with free crypto tax tracking capabilities. The best part is that thanks to Ledgible's no license pricing structure, and our pay-by-report billing model, you can use Ledgible completely free of charge year round - only pay when you go to generate a tax report come tax time. This is true for both consumers that hold crypto and for tax professionals seeking to provide crypto tax advisory services to their clients.
So, what does Ledgible's crypto tax tracker & calculator look like?
The Ledgible Crypto Tax Tracker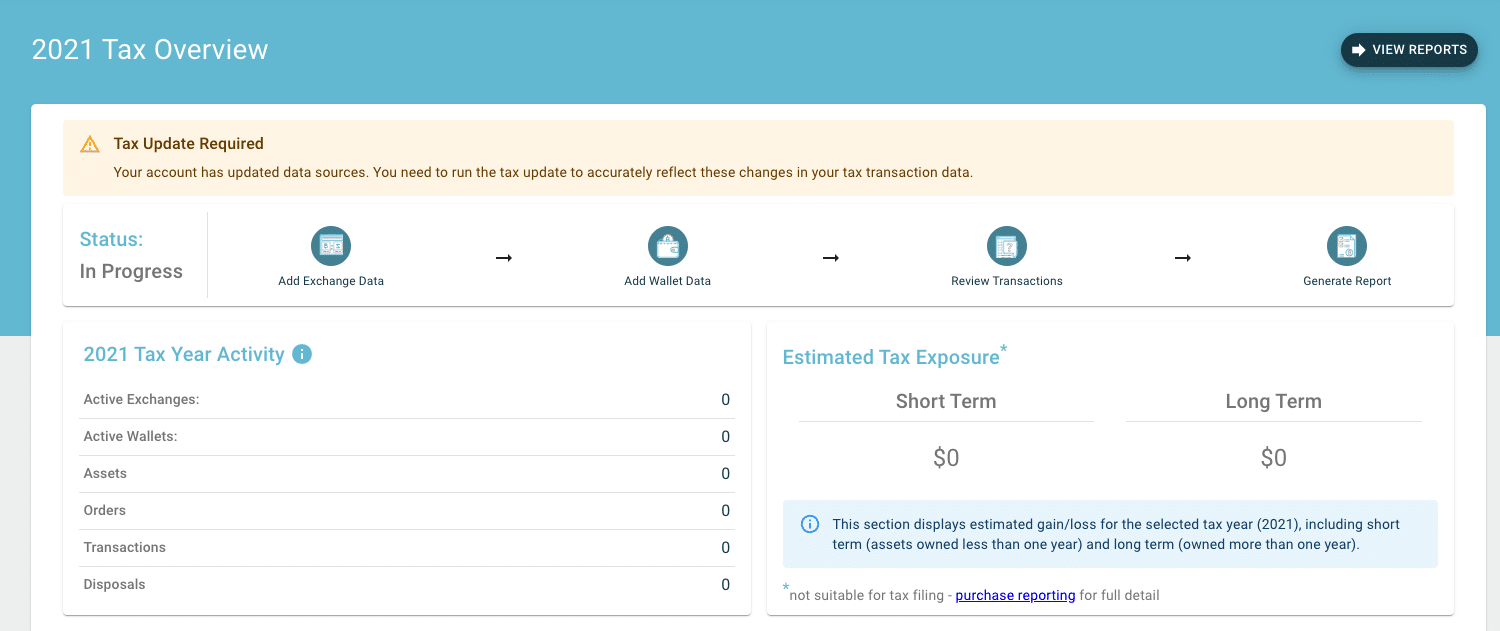 When you first sign up for a Ledgible Tax account (either Consumer of individual tax filers or Pro for tax professionals) you'll be greeted with our real-time tax overview dashboard. On this dashboard you'll be able to see your entire year's activity, as well as estimated tax exposure in real-time. You can also track and manage prior tax years as well.
Ledgible offers API and native integrations with hundreds of exchanges and wallets. To see if the exchanges, wallets, and coins you use are supported, view our supported integrations page here. Of note, if your data source isn't listed here, you can still use Ledgible with our manual import functionality. Due to the complexities and constant evolution of the crypto space, our team is always adding new integrations to the platform to further support our customers.
In the tax dashboard, our menu will also let you navigate through your different connections, allowing the Ledgible platform serve as your one-stop hub for your crypto holdings.

For tax professionals looking to expand their crypto advisory services, the Tax Pro UI will give you a look at all of your clients in one place. If you click on each client, you'll be able to view the their respective tax dashboards (like seen above) to provide them with necessary tax planning data.
The best part about Ledgible is that it's completely free to sign up and use all the way up until tax filing season, so utilizing our free crypto tax tracker is one of our most popular use cases. Finally, on the note of security, Ledgible is independently SOC 1 & 2 Audited, and our crypto experts take great strides to ensure industry leading data security in our on-chain connections. Because Ledgible isn't a trading platform, the tools have no ability to alter any crypto holdings, meaning that we function purely as a data aggregator for consumers and tax pros.
If you're interested in utilizing our crypto tax tracker & calculator, you can sign up here.