As the blockchain & Crypto industry continues to grow, and our world continues to adapt and adjust to the major shakeups it causes to our financial landscape, we will continue to see changes to the ways in which crypto is used and taxed. Here at Ledgible by Verady, we're proud to move the industry forward by collaborating and setting the new standards needed to further the adoption of bitcoin and crypto throughout the world. We intend to give you a leg up on everyone else with various articles, podcasts, news stories, and of course our industry leading crypto accounting software. Here is just one example of the valuable information we can provide you to get a head start on crypto regulation
Read about our joining the Accounting Blockchain Coalition and how we are contributing!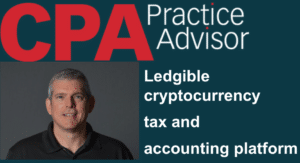 https://www.cpapracticeadvisor.com/accounting-audit/news/21210424/leading-crypto-tax-platform-ledgible-joins-the-accounting-blockchain-coalition
For more information on the current landscape of bitcoin and crypto tax head on over to our blog page or click here to give Ledgible Tax a free trial. Our blog features a wide array of articles and news stories related to what's new and important in the cryptocurrency industry as well as accounting, and often tying the two fields together. Ledgible Tax software will provide you with all the tools you need in order to do all of your necessary crypto accounting.