Security is always the first and foremost concern for us here at Verady.  To further enhance Ledgible's  enterprise strength security, we've recently upgraded our login capabilities to provide for Two-Factor Authentication (2FA).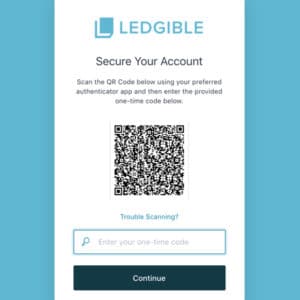 2FA is a fantastic way of securing your access to our platform and we are glad to offer this capability as part of our ongoing efforts of continuing to improve the functionality of Ledgible for you.
To activate 2FA on your Ledgible account, simply login and click on your account name in the top right corner.  Select "Profile" from the drop-down menu and then toggle Two-Factor Authentication to "On."  From there, you will be asked to scan a bar code from your preferred Authenticator app.  That's it!  On each subsequent login, you will be asked to Validate your login with a code from the Authenticator app you are using.
Have a suggestion for how we can help make your Ledgible experience better?  Send us a note here.