Are you a Thomson Reuters GoSystem or UltraTax user? Are you also curious about how to calculate and manage cryptocurrency taxes for your clients? Then you've found yourself on the right webpage, we'll teach you how to order the leading cryptocurrency tax solution through Thomson Reuters Marketplace.
Ledgible Crypto Tax Pro is the leading professional cryptocurrency tax and accounting software solution. We're trusted by some of the world's top institutions to handle their tax and accounting needs. Even better, Ledgible Crypto Tax Pro directly integrates with Thomson Reuters Tax software to allow tax professionals to easily integrate crypto taxes into their existing cryptocurrency tax workflow.
The Ledgible Platform offers tax professionals client management, automated best-in-class reporting, team management, and easy integrations with your tax software. It also handles current-year planning for clients, offers support for DeFi and NFTs, is fully AICPA SOC 1 & 2 audited, and takes care of all of the tax and accounting calculations for cryptocurrency and related financial products. In essence, the Ledgible Platform's crypto tax software solution takes the complexities of cryptocurrency and makes it Legible.
If you're interested in getting started with Ledgible through Thomson Reuters, Ledgible Crypto Tax Pro is available through the marketplace.
If you follow this link, you'll find the product listing for Ledgible Crypto Tax Pro on the Thomson Reuters Marketplace. Integrated into this listing is a wealth of helpful product images, feature listings, and more information about support and documentation. If you want to order Ledgible Crypto Tax Pro, then the process is simple. Click the "Contact" button on the listing to get quickly connected with a Thomson Reuters sales rep. They'll be able to walk you through the software and get you started with it for your practice!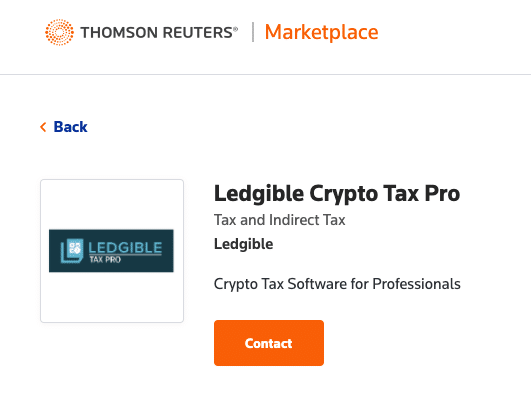 And that's it – gaining access to the best cryptocurrency tax and accounting solution for your practice that natively integrates with your existing tax software is simpler than ever through Thomson Reuters Marketplace. If you have more questions or curiosities about Ledgible's product offerings, you can learn more about the Ledgible Platform here.