Washington D.C. – November 13, 2023
Jessalyn Dean, Vice President of Tax Information Reporting at Ledgible, is set to give testimony to the Internal Revenue Service (IRS) in Washington, D.C. on November 13, 2023. The focus of her testimony will be the proposed regulations surrounding crypto tax reporting.
Read Ledgible's commentary on the proposed regulations.
Addressing the Regulatory Landscape
The world of cryptocurrency has experienced explosive growth in recent years, challenging traditional tax frameworks and requiring innovative solutions. Recognizing the need for clear and effective regulations, the IRS has proposed new rules to govern tax reporting in the crypto sphere.
Jessalyn Dean, a renowned authority in the field of tax information reporting, will provide expert insights and recommendations on these proposed regulations. Her testimony will shed light on the practical implications of these rules for individuals, businesses, and the broader financial ecosystem.
Join Jessalyn Dean, VP of Tax Info Reporting at Ledgible, as she gives testimony on digital asset tax regulations before the IRS in Washington D.C. on November 13th.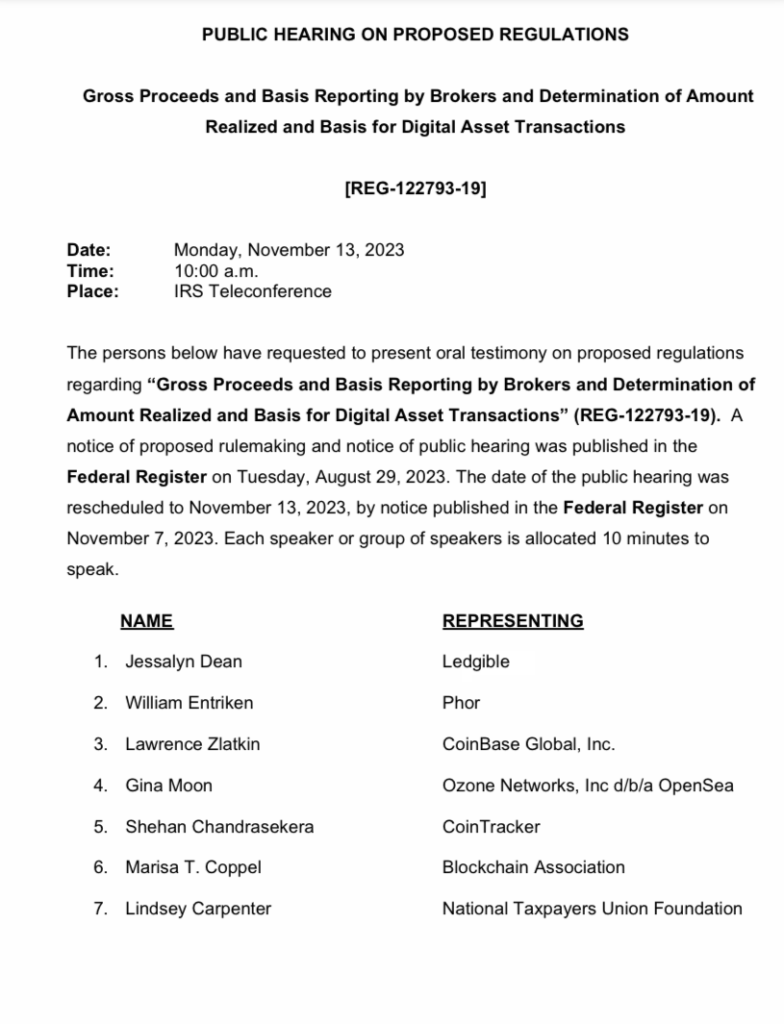 Key Points of Discussion
During her testimony, Jessalyn Dean will delve into several critical aspects of the proposed crypto tax regulations:
Clarity and Compliance: The importance of clear and understandable regulations to ensure compliance among cryptocurrency users and businesses.
Fair Taxation: Ensuring that cryptocurrency transactions are taxed fairly and equitably, considering the unique nature of digital assets.
Reporting Requirements: Addressing the challenges and complexities associated with crypto tax reporting, including issues related to data collection and reporting tools.
International Implications: Discussing how these regulations align with global efforts to regulate and tax cryptocurrencies.
A Voice of Expertise
Jessalyn Dean's role as Vice President of Tax Information Reporting at Ledgible and her extensive experience in the cryptocurrency taxation space uniquely position her to provide valuable insights to the IRS. Her testimony aims to contribute to the development of regulations that strike a balance between fostering innovation and ensuring tax compliance.
The Path Forward
As the cryptocurrency landscape continues to evolve, regulatory clarity becomes increasingly vital. Jessalyn Dean's testimony before the IRS on November 13th represents a significant step toward achieving that clarity, ultimately benefiting individuals, businesses, and the broader financial industry.
Stay tuned for updates on this crucial event as we navigate the ever-changing world of cryptocurrency taxation.
Ledgible is a leading provider of tax information reporting solutions, committed to simplifying the complexities of cryptocurrency taxation for businesses and individuals alike.