Mazars in South Africa Selects Verady's Ledgible for Crypto Asset Confirmations
Worldwide Leading Accounting and Advisory Firm To Use Ledgible for Confirmation of its Global Clients' Digital Assets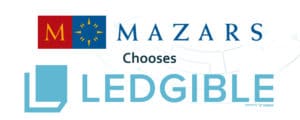 ATLANTA and CAPE TOWN, South Africa, Aug. 18, 2020 /PRNewswire/ -- Verady, the leading cryptocurrency tax and accounting software company, today announced Mazars in South Africa international audit, tax and advisory firm has selected Ledgible to supply confirmation and reporting around its clients' digital currency audits. Understanding how digital assets align with accounting, reporting and verification is key to the adoption of cryptocurrency worldwide. Ledgible is the bridge between cryptocurrency and traditional financial accounting.
Of the eleven Mazars' offices in South Africa, the Headquarters in Cape Town work with many local and global clients with cryptoassets to manage. Mazars is at the forefront of this emerging industry, providing digital currency and blockchain technology services to both domestic and international clients. Ledgible automatically syncs intricate data directly from hosted blockchains and exchanges for these cryptocurrency holdings and transactions which is used by Mazars to obtain the required audit evidence and assurance over clients' cryptocurrency holdings and transactions.
"Traditional accounting practices, risk based audit procedures and reporting frameworks were not designed for cryptocurrency. Our dedicated team however understands the complex challenges our clients face with digital currencies," said Wiehann Olivier, Partner with Mazars in South Africa. "With Verady's solution, tracking, validating and reporting of digital assets become less complex and to include Ledgible in our portfolio of options enables us to connect data to our existing financial platforms making the auditing process seamless for our clients."
"Ledgible offers Mazars a familiar and traditional financial verification, reporting and assurance tool to manage and report confirmations on the digital assets of their clients," said Kell Canty, co-founder and CEO of Verady. "Having an advanced crypto-accounting platform connects the emerging blockchain space with current financial service requirements advancing the cryptoasset industry."
Read the full article here.
As part of our continuing effort to become the gold standard in crypto transaction reporting and the standard bearer of "Bank Statements for Blockchains™," Verady is pleased to announced that we have recently completed a System and Organization Control (SOC) audit for our Ledgible platform. Ledgible has quickly become a leader in the crypto accounting industry and has developed a reputation for trustworthy and reliable data amongst many of the largest accounting firms in the world. Many of these firms, as well as some of the largest global crypto companies, rely on Ledgible for their crypto accounting, internal control, and audit needs.
While most accounting professionals are at least familiar with SOC standards and requirements, there is still confusion in the market. To help clarify Verady's SOC audit and its importance, we found a helpful explanation here that we've paraphrased below:
"For starters, SOC is a system of service organization controls.. and the controls are a series of standards designed to help measure how well a given service organization conducts and regulates its information. The purpose of SOC standards is to provide confidence and peace of mind for organizations when they engage third-party vendors. A SOC-attested organization has been audited by an independent certified public accountant who determined the firm has the appropriate SOC safeguards and procedures in place."
"At Verady, we believe it is important for the integrity of the organization to have SOC compliance.  Cryptocurrency is new to many and this audit shows Verady has met and exceeded standards set for cryptocurrency accounting, financial reporting, and accounting tools for our customers in the blockchain industry," said Kell Canty, CEO of Verady. "Further, we are continuing to work with our attesting firm on extending our SOC Audit to include continuous Type 2 issuance as well."
Accuracy and quality of data is a priority for the company so it can offer a solution that meets high standards and integrity. SOC is a universal framework developed by the American Institute of Certified Public Accountants (AICPA)  to verify security compliance and a strong system of internal controls by financial and technological institutions. The report was issued by a leading audit, tax and advisory firm focused on the investment industry. The SOC engagement included a months long, detailed, in-depth examination of Verady's systems, processes and controls to ensure SOC 1 compliance.
You can read the full press release here: https://finance.yahoo.com/news/verady-completes-rigorous-review-systems-130900500.html