The following is an excerpt from "The Need For Trusted Crypto Accounting Solutions, A Goal To Be A Leader In Corporate Governance" which was originally published on BitcoinMagazine.com
Following a token sale in 2017, Storj's financial complexity changed dramatically and this, in essence, is how Storj came to find Verady and its Ledgible system for crypto-based accounting and reconciliation.
"We were working on version two of the platform, it was live and we were doing something on the order of magnitude of 100,000 micropayments a month," explained Matthew May, Storj's CFO. "Generally, we are always trying to have the best practices for how things were being tracked and managed, but it was challenging to have a single source of truth for what the company's total crypto holdings and activities were looking like in real time."
Verady's offering stood out for its on-chain transactions focus when May conducted a comprehensive search of the platforms available to help Storj Labs accurately track and manage its (crypto) accounting. The platform's ease of use and integrations with outside accounting platforms proved critical for Storj, and the company soon realized significant cost savings in tracking Ethereum's gas payments alone. It also became a leader in cryptocurrency governance and compliance using the tools from Verady.
"Storj strives to be an example for corporate governance and how to do things the right way in this new world," May explained. "We have a strong desire to lead the way in reporting to our stakeholders as evidenced by our quarterly token report. Ledgible is the primary source of truth for that report. It enables a layer of transparency that we want to deliver, but the process was a challenge before Ledgible."
Before Verady, Storj (like many decentralized businesses) managed its (crypto) accounting and reconciliation manually — oftentimes using an array of spreadsheets to track thousands of transactions. This approach may be convenient at first but lacks the functionality needed as businesses scale.
"For companies that are tracking crypto and performing reconciliation manually or have built some home-grown solution, the value proposition for Ledgible is really simple," May said. "Your focus should be on the execution of your business. Period. Even though we're in the crypto space, we depend on proven solutions like Ledgible to handle the complicated and ever-changing world of crypto accounting so that we have more time to spend on our own fundamentals."
Acquiring reliable data is one of the most difficult complexities in cryptocurrency reporting and leads to a great deal of frustration for both taxpayers and preparers alike. To tackle this challenge, Thomson Reuters has entered into a collaboration with Verady, a firm that specializes in the accounting and reporting of cryptocurrencies and blockchain assets.


Verady is proud to be collaborating with Thomson Reuters for U.S. Tax & Accounting Firms to bring industry leading Cryptocurrency Tax support to the profession.
Our Ledgible platform is the worldwide leader in the field of tracking, reporting, and accounting of cryptocurrency and blockchain assets. Ledgible allows Investors, tax preparers and financial institutions to perform AICPA SOC assured portfolio tracking and reporting of cryptocurrency activity.
Ledgible has been specifically built to simplify the painful and complex process of consolidating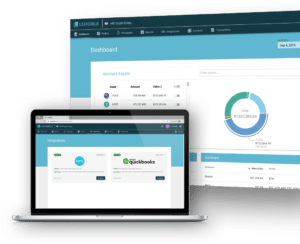 records from exchanges, wallets, blockchains, and other cryptocurrency data sources. Hours spent in spreadsheets matching records and performing reconciliation can be reduced to just a few minutes of setup in Ledgible. With a button click, Ledgible users can create reports ready for GoSystem Tax and UltraTax – both of which consume these reports to streamline preparation and minimize risks with full data auditability.
Read the full announcement at https://blogs.thomsonreuters.com/tax-news/thomson-reuters-launches-virtual-currency-organizer/
Ready to start a Free 30 Day Trial of the leading cryptocurrency accounting solution?  You can get started immediately at https://ledgible.io/ledgible-accounting/
Ledgible Now Supports ETC
We're happy to announce that Ledgible now supports Ethereum Classic (ETC), the result of a 2016 hardfork from Ethereum (ETH) and an original proponent of the "Code Is Law" smart contract.
For a full list of supported blockchains, including upcoming additions such as Monero (XLR) and Stellar (XLM), please visit our Supported Integrations page at https://ledgible.io/supported-integrations/
Have Time For A Short Tour?
As part of our efforts to continually improve the user experience in Ledgible, our team has been hard at work developing a simple, yet comprehensive onboarding tour of the platform.
Already a power user?  If you're interested - or just want to make sure you're using all the features available to you - take the tour by clicking on your username in the top right corner and selecting "Profile."  From there, simply toggle the Onboarding tour from "Hide" to "Show."
Haven't yet signed up for a free trial?  No better time than the present.  Just visit https://ledgible.io/ledgible-accounting/ and click the green button that says "Sign Up For Free"... your tour will begin once you validate your email address and login.
Have a suggestion for how we can help make your Ledgible experience better?  Send us a note at [email protected] or use the contact form at https://ledgible.io/contact/.
If you attended Thomson Reuter's SYNERGY 2019 conference in early November, we hope you came by the Innovation Lab and said Hello!  We were honored by the invitation to show Ledgible to so many attendees at this industry leading conference -  and get to meet some of Thomson Reuter's great leadership team in Charlotte Rushton and Swati Garodia!
Let us know what industry conferences you'll be attending in 2020... we're still evaluating a number of options and would love to get feedback on what conferences we can have the most impact.  Send us a note here or email us at [email protected].
While the U.S. Dollar dominates most crypto activity and officially serves as the World's Reserve Currency, many of our customers are located throughout the world and need support for their home currency.  So, in addition to USD, Ledgible now supports 21 additional world currencies including all eight of the most traded globally (see full list below).  
Simply select your preferred Fiat Currency under "Account Settings" to transform all of your balance and transaction data into your selected fiat.  Your Dashboard, Wallets, Exchanges and Reports will now reflect the appropriate fiat value and symbol.  
Ledgible applies a proprietary process leveraging multiple data sources to determine the values attributed to each currency.
The complete list of supported fiat currencies include:
USD (U.S. Dollar)

AED (United Arab Emirates Dirham)

ARS (Argentine Peso)

AUD (Australian Dollar)

BRL (Brazilian Real)

CAD (Canadian Dollar)

CHF (Swiss Franc)

CNY (Chinese Yuan)

EUR (European Union Euro)

GBP (British Pound sterling)

HKD (Hong Kong Dollar)

IDR (Indonesian Rupiah)

INR (Indian Rupee)

JPY (Japanese Yen)

KRW (South Korean won)

MXN (Mexican Peso)

NZD (New Zealand Dollar)

RUB (Russian Ruble)

SAR (Saudi Riyal)

SGD (Singapore Dollar)

TRY (Turkish lira)

ZAR (South African Rand)
Please note we are continuously evaluating support for additional fiat currencies and this may not represent the full list in the future.
Looking for a crypto accounting solution that listens to your feedback?  Learn more about Ledgible and sign up for a Free 30 Day Trial.
Already a customer and have a suggestion for how we can help make your Ledgible experience better?  Send us a note here.
Advocates point out that bitcoin embodies many of the technical qualities for the "future of money." It is natively digital, inherently suited for internet and mobile, provides for a global alternative asset and payment capability, and is unrivaled in its ability to provide for financial inclusion and stability. It's efficient and universal.
But, as well suited as bitcoin may be for our modern way of life, there are still obstacles standing in the way of its wider adoption. From user friendliness to merchant integration, many of those who would benefit most from using bitcoin still face hurdles that keep them from doing so.
One of the areas where these barriers are greatest — but perhaps less visible to the average consumer — is in accounting. Accounting not only provides management with essential data to help drive any business, it also provides quantitative financial information to investors, institutions and regulatory agencies. And in their pursuit to normalize this information, accounting practitioners, regulators and other financial professionals are always searching for the "source of truth" to reconcile balances, transactions and statements.
In the traditional currency (fiat) world, bank statements are the primary source used by accounting professionals to track a business's transactions and categorize them appropriately into accounts such as expenses, rent, income, payroll, etc. Accounting platforms such as QuickBooks, Xero, NetSuite and others have addressed this issue by creating "bank feeds" for bank, credit card and other transactions — allowing them to be seamlessly imported into the business's general ledger.
Unfortunately for accounting professionals servicing crypto-transacting clients, there are no bank statements for bitcoin.
Accounting for the Bitcoin Age
Developing "Bank Statements for Blockchains™"
Verady was born out of the experience of its co-founders, Kell Canty and Nathan Eppinger, who had previously launched the startup Coinpliance. In this original venture, just as in Verady, they were working to help ease the challenges associated with bitcoin assurance and bridging the gap between the new bitcoin world and traditional financial needs. One notable use case they encountered was cryptocurrency auditing and reconciliation — specifically regarding the independent financial audits of the largest bitcoin payment processor in the world.
At first, the auditors said, "No problem, just give us the bank statements, and we'll take care of the rest." However, it was quickly learned that there is no bank statement or equivalent for bitcoin. In order to conduct the audit, the company directed its auditors to work with Canty and Eppinger to help with the verification and independent confirmation of their bitcoin transactions.
From that point forward, Verady has set out to develop what it terms "Bank Statements for Blockchains™" so that accounting professionals and others have the source of truth required when reconciling cryptocurrency balances and transactions. The culmination of that effort is Ledgible, a cryptocurrency accounting and auditing platform designed to provide businesses who adopt cryptocurrencies like bitcoin the ability to easily manage, account, audit and value their financial activity involving blockchain assets.
Ledgible is a software platform that works both as a standalone system and in conjunction with existing accounting general ledgers to get a business's cryptocurrency transactions directly from the blockchains where they take place and report on them in a "legible" and comprehensive manner.
Ledgible essentially serves as the blockchain bank feeds for the business's general ledger, allowing businesses to stay within the traditional accounting platforms with which they are comfortable and to integrate bitcoin or other cryptocurrencies directly. This capability is a critical part of the solution for those who want to adopt bitcoin or other crypto assets into their businesses, such as a retailer accepting BTC in exchange for goods. Also, this provides fundamental reporting capabilities for cryptocurrency-native companies that need to comply with regulations as well as conduct best practices in bookkeeping.
Adopting Bitcoin With Ledgible
Many businesses that might be inclined to adopt bitcoin can be discouraged by the level of difficulty inherent in merging it with their standing operations. And, because bitcoin is a new form of money, this is especially clear for accounting and reconciliation processes. Businesses of all sizes expect to see the types of reports that traditional accounting platforms offer, such as bank statements for their fiat transactions. As discussed, these are not readily available in the world of cryptocurrency.
Even those businesses that have realized the potential that bitcoin brings still have a difficult time leveraging it. Because there is a lack of bitcoin-specific options, these businesses are having to figure out how to use mainstream platforms, such as QuickBooks and Xero, to conduct bitcoin accounting themselves.
Matthew May, co-founder and CFO of Acuity, which helps entrepreneurs in the cryptocurrency space navigate tax and accounting issues, said that many times the biggest issue with cryptocurrency inside of a business is the owners trying to figure it out by themselves, without all of the tools necessary to do it effectively.
"Typically, the owners and managers of small businesses are managing it themselves… and an observation that's not unique to crypto: When an owner is doing something, it's typically done with lesser priority than running the business," May noted. "But in the fiat world, with folks like QuickBooks and Xero, there are bank feeds that their accountants can interact with to associate all of the cash transactions with the business's general ledger."
For these acute accounting issues, Verady's platform became May's solution.
"Ledgible's solution not only integrates with those accounting platforms, but provides the transaction histories through feeds directly from the blockchains of those crypto assets," he said. "This allows that small business's accounting professionals to leverage these crypto 'bank feeds' to reconcile transactions on the company's general ledger."
Ledgible gives these businesses and their accounting professionals the tools and knowledge needed to not only help them realize the advantages of bitcoin but to do so in a way that keeps them comfortable with their accounting and reconciliation processes.
Verady's Ledgible platform has been gaining momentum in addressing this problem and has garnered support from a broad range of the business community — both traditional and cryptocurrency-focused members. Not only is the company working with some of the top-100 accounting firms in the country, it is rapidly expanding its subscriber base of small- to medium-sized businesses who are looking for cryptocurrency accounting solutions. Verady has recently announced certified app solutions for both Xero and QuickBooks and is developing integrations with a number of additional platforms, continuing to expand its base.
Verady recently closed a funding round that included participation from blockchain-focused venture firm Fenbushi Capital, payments guru Pam Joseph, and global tax and accounting powerhouse Thomson Reuters, among others.
his article originally appeared on BitcoinMagazine.
https://www.prnewswire.com/news-releases/verady-announces-alliance-with-intuit-quickbooks-online-300930759.html
ATLANTA, Oct. 3, 2019 /PRNewswire/ — Verady, the leading cryptocurrency accounting and audit software company, today announced its Ledgible platform now integrates with QuickBooks Online and is available through Intuit's Apps.com. The Ledgible platform integration enables businesses, accountants and bookkeepers to save time, reduce complexity, and ensure accuracy by automatically syncing QuickBooks Online with information directly from cryptocurrency holdings and transactions.  For more information on Intuit's QuickBooks Online please visit https://quickbooks.intuit.com/accounting/ .
"We are proud to offer this integration that connects our platform's unique data with QuickBooks Online. The Ledgible platform for crypto assets moves to the next level by having deeply integrated API transaction data sharing with the QuickBooks Online platform.  Integrating cryptocurrency assets and transaction data with traditional accounting is essential to the continued growth and adoption of this powerful new asset class and payment method. Ledgible provides this pioneering capability for the QuickBooks Online ecosystem," said Kell Canty, CEO of Verady.
This new integration allows QuickBooks Online customers and their advisors to access the first cryptocurrency asset management and transaction reporting system integrated seamlessly with the platform.
Ledgible's integration with QuickBooks Online is the latest in a series of enhancements to the system made with an eye toward meeting the cryptocurrency needs of accountants and businesses worldwide.  The announcement follows recent product additions, including multi-currency support, capital gains reporting, advanced wallet reporting, and support for user access to multiple accounts that can be treated as separate ledgers.
Verady's founders pioneered verification of cryptocurrency assets beginning in 2014 by partnering with Aprio – a top 100 accounting firm, who later became one of Verady's first investors.
About Verady
Verady provides cryptocurrency accounting, reporting and verification capabilities through the Ledgible platform.  Verady believes traditional accounting systems, firms, and standards are currently lacking functionality around cryptocurrencies. The Ledgible platform is the bridge between cryptocurrencies and traditional financial accounting which is needed to further their acceptance and growth. For more information about Verady please visit fromledgible.com or follow @veradyinfo on Twitter.
Security is always the first and foremost concern for us here at Verady.  To further enhance Ledgible's  enterprise strength security, we've recently upgraded our login capabilities to provide for Two-Factor Authentication (2FA).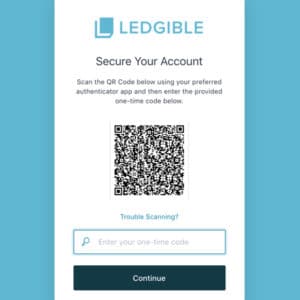 2FA is a fantastic way of securing your access to our platform and we are glad to offer this capability as part of our ongoing efforts of continuing to improve the functionality of Ledgible for you.
To activate 2FA on your Ledgible account, simply login and click on your account name in the top right corner.  Select "Profile" from the drop-down menu and then toggle Two-Factor Authentication to "On."  From there, you will be asked to scan a bar code from your preferred Authenticator app.  That's it!  On each subsequent login, you will be asked to Validate your login with a code from the Authenticator app you are using.
Have a suggestion for how we can help make your Ledgible experience better?  Send us a note here.
Be on the lookout for our upcoming release with easy integration with the Uphold exchange (www.uphold.com).  Uphold will join our growing list of integrated Exchanges where you can easily connect and detailed order information.
You asked, we listened!  We're also hard at work adding new on-chain wallet support for specific chains you've requested.  Be sure to login at Ledgible and check for these changes and other features that are in the works.
As always,  we are continuously adding new functionality to bring value to our clients in the ever expanding world of cryptocurrency and blockchain assets.
Have a suggestion for how we can help make your Ledgible experience better?  Send us a note here.
Below you will find a list of crypto exchanges that we have integrated with the Ledgible platform.  The list is in alphabetical order and is not meant as a ranking.  Additionally, each integration with a crypto exchange is different and the features (historical transactions, reporting, etc.) we are able to offer vary from exchange to exchange.  You may also notice that the setup / login process varies as well.
While this list of integrated crypto exchanges is current as of August 29, 2019, we are continuously adding new exchanges to the platform and ask that you login to your Ledgible account to view the most up to date list of exchanges available.
Looking for integration with a crypto exchange not listed below?  Contact us and let us know.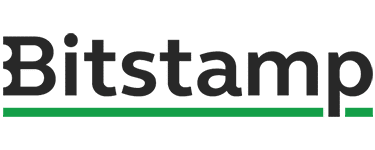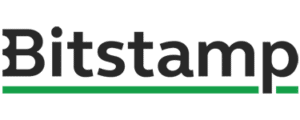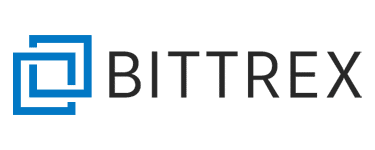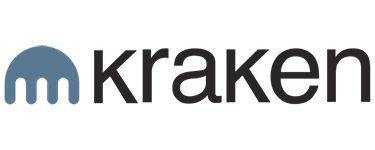 Multi Sig Wallet:
Industry Leading Support Continues
As a follow up to Ledgible's industry leading wallet support, we have now added multiple signature capabilities to HD/Xpubs wallets (multi sig wallet) to further integrate with wallet providers and ensure the most advanced features available.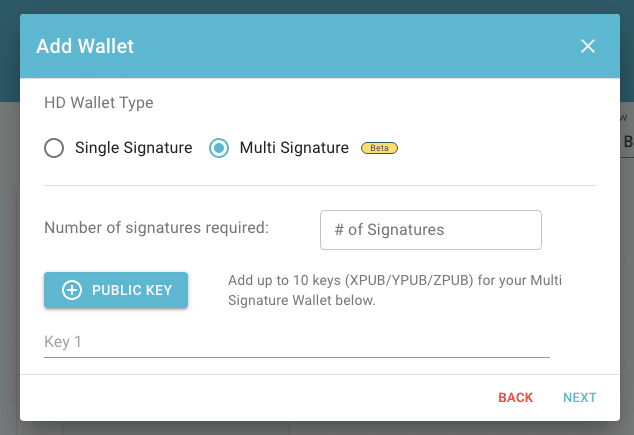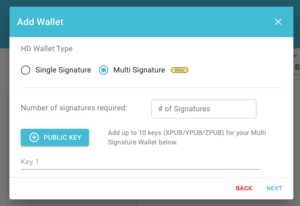 This support allows users to easily integrate the security of using multiple signatures for wallets with the ease and address management of HD/Xpub wallets.  As always, we are continuously adding functionality to assist our users and help them report, account, and audit on their cryptocurrency holdings and transactions.
Looking for a crypto accounting solution that takes security seriously?  Learn more about Ledgible and sign up for a Free 30 Day Trial.
Already a customer and have a suggestion for how we can help make your Ledgible experience better?  Send us a note here.